Dear Ramblers Members,
The committee has tried several times to plan the AGM which for legal reasons needs to be held before the end of the year.
Because Covid restrictions by early December are expected to be lifted for everyone and there will be no limit on numbers, we have now booked the Rhododendron Gardens at Mt Pleasant for Wednesday 8th December.  We have chosen a weekday because at this time of the year the gardens can get very busy on Saturdays with weddings and general public gatherings.
As this date is close to our planned Christmas Party at the Warilla club on 10th December we have decided that it would be a good idea to combine both these events having the AGM followed by a Christmas BBQ picnic at the Rhododendron Gardens.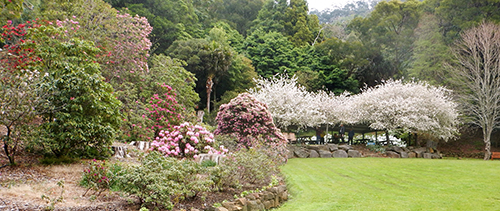 We hope that everyone will be happy with this arrangement.
The format, to be confirmed in due course, will be morning tea, followed by the AGM, then an optional short bushwalk or browse around the gardens and a Christmas Party social get-together to finish.
More details will be advised soon as to times and other arrangements.  Come for the day or just for the Christmas Party but put this date in your diary.
Looking forward to seeing you all soon,
Fred Morrison
President