Unfortunately, Covid has taken its toll on our club and we now find ourselves in a position where we need members to help out with the leading.
Leading is not too onerous a task. We can all use the same walks, lakes, rivers and bike paths to lead on, we do not need to find new venues. If we all do our bit, then it becomes even easier for everyone to enjoy our club.
Here is an easy walk I did just because I love the rock formations and we had a great day. Anyone can put this walk on!
Wattamolla to Marley Beach return.
At the start we had a surprise as the creek was flowing with more water than I had ever seen in it. Everyone happily paddled across and there were no problems. Ramblers are usually very easy going!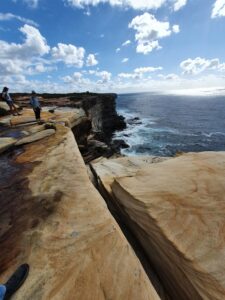 We walked to the most amazing rock formations and took our time taking photos and checking out the scenery.  Just before Little Marley everyone was happy to sit on the outcrop overlooking the beach to have morning tea. We had one person who needed a bandaid and as I am a good leader, I had one!
It was starting to warm up, but we all agreed to go to Big Marley, check out the sandhills and the creek before beginning the return journey.
On our return, we stopped at the dam in the creek and had the most wonderful swim. One of our members had his first swim in 2 years! It was exceedingly refreshing. When we returned to Wattamolla, we agreed to stop for coffee and gelato at the top of Bulli pass which was delicious. We were then home in time for a Nanna nap! The perfect day!  It was such an easy walk to organise and went well even though we had a small set back with the creek which was easily overcome.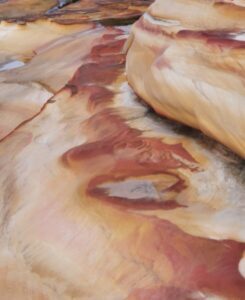 There are ideas for activities listed on our website. Go to Activities and click on Useful Links to see the lists.