A chance to have your say on near final plans for mountain biking on the Illawarra escarpment
If you've spent any time on our beautiful Illawarra Escarpment lately you'll have noticed there are increasing areas of informal mountain bike trails. You probably also realise it's a divisive issue in our community. Mountain biking is a popular, healthy, active pursuit but these trails are damaging our special escarpment forests. NPWS have been trying to sort the problem by proposing legal trails. Their latest documentation is now out for public comment by July 18. We encourage anyone interested to have their say.
Background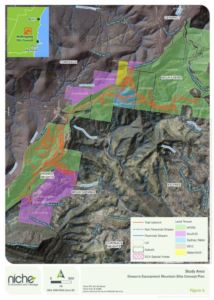 The Illawarra branch of NPA along with other environmental and Aboriginal groups came together in 2018 to form the Illawarra Escarpment Alliance. We've been working together with other stakeholders on an Advisory Group to try to get the best outcome for all. We've been increasingly frustrated that NPWS, perhaps due to political pressure, is focused on getting a new trail network approved, for which they have the funding.
We have no objection to a well planned, professionally built and properly maintained network but we object to the lack of attention to remedying past and ongoing damage in the process. NPWS constantly put off discussing the issue of closing and rehabilitating the illegal trails. Meanwhile mountain bikers feel entitled to keep using the trails and building more. It's hard to challenge these assumptions while NPWS won't take the lead on establishing environmentally responsible use of their land.
The present documentation
This is a Review of Environmental Factors (REF) for a proposed network between Mt Keira and Mt Kembla. It is the last requirement for this particular project to proceed. We can expect a REF for another network in the Balgownie area to follow. We think all planned new trails should be assessed in the one document.  There are shortcomings in the assessment and how the REF incorporates recommendations from consultants. There are also many unsolved problems for the residents of Mt Kembla and Kembla Heights.
Having your say
There are two possibilities. You can respond to the survey on this link or you can write a submission.
Deadline is July 18.
We collaborated with the Illawarra Escarpment Alliance to prepare a guide to either filling in the survey or writing a submission which you can download from our branch web page here.
What are the main issues?
The REF needs to include detailed, costed and funded plans for closing the illegal tracks and stopping new ones being built – if illegal track building and use isn't stopped, adding formal tracks will only further damage the cultural and environmental heritage of the Escarpment.
All planned new trails and associated infrastructure should be assessed in the one Review of Environmental Factors, not broken down into multiple separate assessments.
There are shortcomings in the assessment and how the REF incorporates recommendations from consultants. The Aboriginal Cultural Heritage Assessment has not been shared and no explanation is provided for why not.
There are significant negative impacts on the residents of Mount Kembla and Kembla Heights that have not been properly assessed or resolved.
Graham Burgess
President | Illawarra Branch
National Parks Association of NSW – Illawarra Branch
tel:             0416 325 266
post:          PO Box 528 Pyrmont NSW 2009
email:        illawarra@npansw.org.au
web:          https://npansw.org/what-we-do/our-branches/illawarra/
facebook:  www.facebook.com/NPAillawarra