While we may be feeling a bit housebound due to the miserable weather,  it is a good time to catch up on news from a few of our members who are currently very involved in commitments and challenges outside club activities.
Last year Anne Royters participated in the Cancer Council Ride500 Challenge and raised $23,000.  At the time we published "Anne's Story", an account of her journey since being diagnosed with ovarian cancer in late 2019.  In the last 12 months, her health has deteriorated significantly, yet she has kept active and when feeling well enough has joined us on paddles and bike rides.  Her determination to set and achieve goals despite the odds is inspirational.  The Ride500 Challenge is on this year, and once again Anne has set herself the task of raising funds by participating.  To see her continuing story and information about the event click here.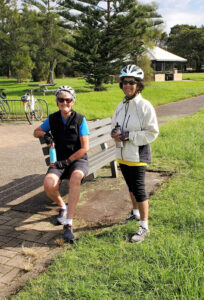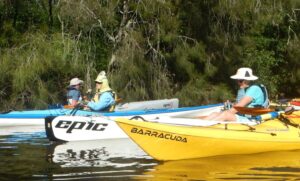 ….. remember to look out for Anne on or near the bike path around Lake Illawarra in the coming months.
There are a few musicians amongst our members, including Kerrie Faulkner and Robert Lynn who are currently involved in organising the HonkOz Festival which will be held in Wollongong on 15 and 16 July.   HonkOz is a free street music event supported by Wollongong Council and the Conservatorium of Music and is being hosted by the Con Artists.
Kerrie and Robert will be playing with their respective groups at some of the venues so if you are in town for the festival, look out for them – maybe you'll come across a few other talented Ramblers.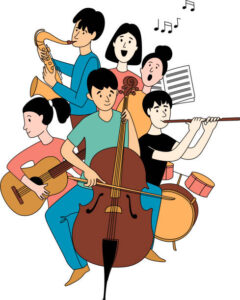 Well done all, lets hope the sunny days return soon!
Penny Howes