A lunch at the Wollongong Golf Club was enjoyed by over 50 Illawarra Ramblers Club members.  It was an opportunity to catch up with friends and to celebrate the 90th birthday of one of our Life Members, Max Tenhave.  Max and his wife Clara have been involved with the Illawarra Ramblers since it's beginnings.  Max has been an active member for many years and is best known for the walks he led in the Balmain and Paddington areas of Sydney.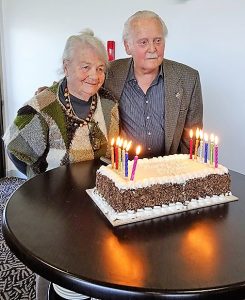 Max thoroughly enjoyed the lunch which was a complete surprise to him.  He sent this letter of thanks to all of us.
Dear Friends,
I got a real surprise when I walked into the golf club on Friday Aug.3 and saw so many people there. But it was soon explained to me that it was in honour of my 90th birthday. It was nice for me to know that you remembered the "old fellow". I was treated like a king, a lovely meal, drinks as well as a lovely birthday cake. But above all this your presence was most appreciated by myself and Clara. I say thank you so much for remembering my birthday and for putting this feast on for me.
We are all very proud of our club, always well managed, always been able to find people to lead our walks or go on our committee. Our first walking holiday was organised by Eric Williams, the CEO of Wollongong WEA in September 1993.  It was to South East Queensland and this was one of our best long walking holidays ever, people still talk about it today. Not to forget our yearly week away in the Snowy Mountains staying in ski lodges. What I like about walking is not only the scenery but also the friends you make. People open up after a while and we get to know each other well. We are all the same, it does not matter what we do in private life, we all love the bush. I could ramble on for a while, but I leave it at this. Thank you most sincerely for your friendship over the years. Keep walking!
Best wishes from both of us and kind regards,
Max and Clara Tenhave