Meet the member:  Robyn Sim, Illawarra Rambler member and occasional walk's leader
Interview conducted by Julie McDonald, Publicity Officer
This is the start of a new segment in the newsletter: "meeting the member" where an Illawarra Rambler will be interviewed on their interests, experiences and what they like about being part of The Illawarra Ramblers.
JMcD: Can you tell me a little about your background and interests and where you live?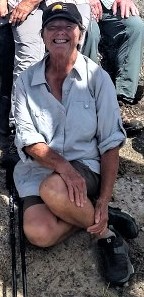 Robyn: When I was in my 20s and 30s, I lived in Wollongong and did a degree in environmental science at University of Wollongong and then a Master's of Science. Then I got a job in Sydney and moved away and worked for many years as an environmental scientist, ending up as the stormwater manager for Sydney Water. This involved looking at wetland restoration work and treating stormwater in an environmentally friendly way. When I retired, I moved to the country to break loose for a while. But I was starting to feel a bit lonely because I lived on my own and there wasn't a lot to do after I built my own house and planted a garden. So I came back to the Illawarra about six years ago. My son and grandchildren are here and I wanted to be closer to them.
 JMcD: When and why did you join Illawarra Ramblers?
Robyn: When I moved back, I didn't really have any close friends here. I was looking for company and for something to do. I'd always done walking but never belonged to a club. I used to walk with friends – mainly long-distance walks overseas, like the Camino in Spain and the Dolomites. I found out about Illawarra Ramblers pretty soon after I moved here and I've been a member for five years or so.
JMcD: What have been your experiences like with Illawarra Ramblers?
Robyn: I've loved it from day one. It's just been fantastic. Everybody is so welcoming and such good company. You're out there in the bush and it has a lovely feel about it. Everyone's happy and positive and it's been really great for me.
I love native plants. As part of my studies, I did vegetation surveys in the local catchment areas. And reliving that on walks and trying to remember all the plant names has been so nice.  I've been making myself learn all the plant names again. I was also looking for an excuse to get out. It's not so much fun walking on your own and I've made some very good friends.
I particularly love the trips away. I go on a lot of the walking trips that Graham Burgess runs, I've been to Mallacoota and Croajingolong national park; Barrington Tops; Talbingo, and next March, the south coast.
JMcD: What prompted you to become a leader?
Robyn: I've only led a few walks when there have been gaps in the program or when there's been walks I've wanted to do. For example, I led a trip down to Guthega earlier this year. I've been going to the Snowy Mountains every year for 20 years with friends from Canberra, and I love walking there. I was talking to friends I've made in Illawarra Ramblers about Guthega and they persuaded me to put on a trip there and I've been promising to do it again, maybe Thredo next time.
I've only led walks where I've known the area really well and walks that I've done before. We've got such a good group of leaders and I've learned so much from them and have followed their example. I was talking to someone the other day and I do think I've got to be a bit more adventurous and put on a few more walks.
JMcD: Have there been any downsides?
Robyn: I can't think of any. The few walks I've led I've really enjoyed because everyone is chatting away and happy. I've never had the experience of anyone complaining or not enjoying themselves. With the Guthega trip I particularly enjoyed socialising after the day's walk: having a few drinks together and the conversations. It really did make me feel good that that everyone seemed to enjoy it.
JMcD: I can vouch for that. I thought it was fabulous. I really enjoyed the walks. They were well chosen and the accommodation was superb.
Robyn: In preparing for a walk you're leading, you're thinking 'oh my', this could go wrong and that could go wrong, but it never has! Of course, you have to be careful. But I've not had any bad experiences and I think it's because everyone is positive. Everyone wants to be there; there's a common interest that draws people together and you feed off that.
Each leader tends to have their specialties, and after a while you learn what the different leaders are like and the types of walks they take you on. That's good because it adds a variety. For example, Anne Murdoch always does Curramoors Circuit about this time. She chooses the time when all the wildflowers are out. So that's really terrific. She's put a lot of thought into that.
JMcD: Can you think of any other opportunities for Illawarra Ramblers?
Robyn: It would be nice to have a few more new leaders. New leaders can put on different walks, which I think would be beneficial. But overall, I've loved being part of Illawarra Ramblers.