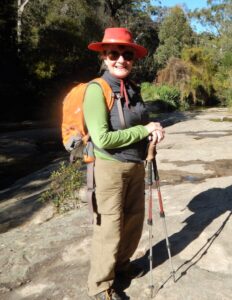 It was a huge shock to many of us when we heard on Friday 12th August that Judy Engall had a horrific fall while cycling and was airlifted to St George Hospital with serious head injuries. Only the day before she had been kayaking with us on Lake Illawarra and had been talking to us about her plans to cycle some of the rail trails in Victoria.  Judy was preparing for this trip by cycling long distances locally.  On this day she was heading from Woonona to Minnamurra. She came off her bike on the shared path in Warrawong, near the intersection of Shellharbour Road and King Street.  What actually caused Judy to fall is unknown.  Just over a week later, she succumbed to her injuries and passed away on 20th August.
Judy joined the Illawarra Ramblers in October 2014.  At that point she was planning to retire and move to Wollongong.  She joined our kayaking activities and became a regular participant once she retired. Judy joined many kayaking trips, including the more challenging ones, kayaking long distances, camping on the river bank and invariably wading knee-deep in mud along the way.  On a few occasions she was not kayaking but happened to be in the area and was eagerly on hand to help out with transport when incidents or bad weather occurred.  Judy also enjoyed some of the walking trips away, and occasionally cycled with us. She was a very vibrant member of the club and for the last 2 years, was a committed and valued  member of the committee.
Judy led a full life.  She loved new experiences and was forever planning trips to different places, enjoying different restaurants, trying new baking or cooking recipes, growing her own vegies.  She was a regular swimmer and learnt how to play lawn bowls among other pursuits..
Judy was always enthusiastic, she made lots of friends, was interesting and invariably smiling.  She will be missed by all of us who knew her in the Ramblers.
A short video with pictures of Judy doing what she loved to do has kindly been put together by Peter Bique.  It can be viewed in the Gallery or on our Facebook Page.