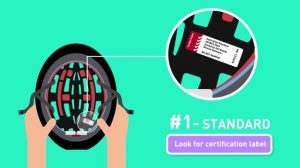 1.  Standard 
Make sure the helmet meets the Australian Standards.  All helmets sold in bike stores in Australia are required to meet these standards. To check, look for the label inside the helmet that says it's certified to meet Australian Standards. If you're buying a helmet online, make sure you're buying from a reputable Australian retailer.
Handy hint: When riding a bicycle or scooter in Australia, you must be wearing an Australian Certified helmet.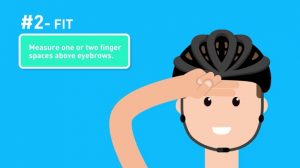 Fit
Children's helmets are often one size fits all, but adult sized helmet shells are a range of basic sizes. Make sure the helmet fits level on your head – snug but not too tight. The front of your helmet should be one or two fingers above your eyebrows. The 'Y' of the helmet strap should join just under your ears and both arms of the strap should sit flat against your head. When the straps have been correctly adjusted, you will not be able to pull the helmet forward off your head. Good quality helmets often have an adjuster at the back – usually a wheel or dial that you can turn to tighten or loosen the straps. Helmets with these adjusters fit better and are often more comfortable.
Handy hint: If you're buying online, you can find your 'hat' size by wrapping a tape measure around your head above your ears and across your forehead like a sweatband.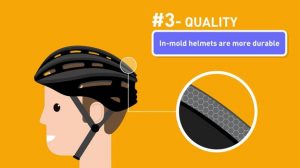 Quality
Consider purchasing an in-mold helmet, where the plastic shell and shock absorbing foam are created in one piece. These helmets generally cost more than helmets created in two parts. While both are safe to use, in-mold helmets are generally more durable and perform better when they hit the ground.  Some helmets come with an additional layer of protection inside the shock absorbing foam, called a multi directional Impact Protection System (MIPS). This system moves slightly on impact, reducing the force of an impact and helping to reduce concussion style injuries.
Handy hint: If there is foam on the outside of the helmet, you can feel a space between the shell and lining or you can see tape running around the helmet where the cover meets the foam, then it's probably not an in-mold helmet.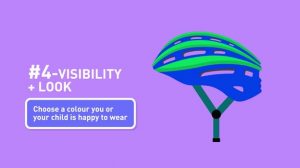 Visibility
Pick a helmet with bright, contrasting colours and reflective strips.
Handy hint: If you're buying a helmet for child, make sure they like the look of it as they will be happier wearing it.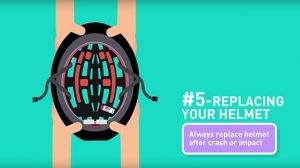 5. Replacing your helmet
If you happen to fall off your bike and your helmet hits the ground, it's time to get a new one. After a solid impact, the foam will have reduced its ability to absorb shocks and the shell may have cracks that you may not be able to see.  The general recommendation is that a helmet should be replaced some time between  5 years and 10 years although best practice is 5 years. Please don't use second hand helmets; these days there are reasonably priced Australian Standard helmets.
Handy hint: Treat your helmet with care. If you keep dropping it on the garage floor, the shock absorbance may be reduced before you really need it for protection in a crash. Also do not expose your helmet to more sun exposure other than when you wear the helmet.
For further information go to the RACV website https://www.racv.com.au/on-the-road/bike-riding/cycling.html and watch the video https://www.youtube.com/watch?v=LC7h4g2Gz0s