An account by Robyn Sim who, along with a few other Ramblers, joined a tour of the Kimberley in June.
I flew into Kununurra via Darwin just as NSW was reporting new cases of COVID & WA was getting ready to shut its border. It had been a tense time at home leading up to leaving Sydney, it certainly looked like the trip would have to be cancelled again after being postponed from last year. I was lucky, I got there just before the border was closed. The plan was to meet up with fellow Ramblers (Graham, Jenny, Judy, Jim & Krish) in Kununurra before joining the bigger Inspiration Outdoors Group early Monday morning for the start of the trip. Unfortunately, Jim & Krish got caught with the WA border closure & had to go into quarantine in Perth until returning a negative COVID test. Graham & Jenny also had to quarantine in Kununurra awaiting test results. So the pre departure meet up was restricted to just Judy & myself with dinner at the Kununurra Pub because it was the only option available. The whole place was absolutely full of people, mostly travelers with big vans.
After a couple of minor hiccups, we left Kununurra a little late on the first day in a 17 seater 4WD bus with Mandy & Ruben (our tour leaders) sharing the driving & 9 'others'.  The late departure allowed Graham & Jenny to come on board, with negative test results arriving just as we were about to leave, but minus Jim & Krish.
We headed off to Purnululu NP with much excitement, a new adventure for us all. We soon had an idea of what awaited us, travel wise, when we turned off the Great Northern Highway into the NP. It took us a couple of hours to go the 50 Km to our camp site because the road was very rough, with many creek crossings & 3 rivers.
Purnululu is a World Heritage Site which includes the Bungle Bungle Ranges which contain exceptional examples of beehive-shaped karst sandstone rising 250 metres above the surrounding semi-arid savannah grasslands. Deposition and weathering have given these towers a spectacular black and orange banded appearance. This banding is formed by cyanobacteria which stabilise and protect the sandstone formations. Erosion over a period of 20 million years has resulted in a landscape of great beauty and exceptional geological interest.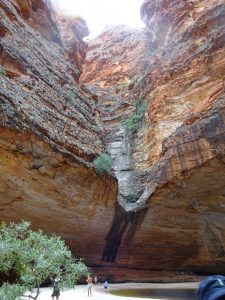 Cathedral Gorge
We spent 3 nights here, exploring the area doing lots of walking each day. We walked to Echidna Chasm, Mini Palms Gorge, Piccaninny Creek, Cathedral Gorge, The Window & Whip Snake Gorge. Walking was mostly up dry river beds so the going was a bit rough on uneven rocks but was not difficult although the scenery was absolutely amazing.
Judy took a helicopter flight over the Bungle Bungle Range & came back with an enormous grin stating that it was a fabulous experience.
Jim & Krish managed to join us on the 2nd night which was great.
On day 4 we headed back to Kununurra for the night & the next day headed to Wyndham where we wound our way up a very steep incline to the Five Rivers lookout (Pentecost, King, Durack, Forrest & Ord Rivers) with a view out to Cambridge Gulf. A very nice Pied Butcherbird came to visit as we ate our lunch here.
We then moved onto Parry Lagoons Nature Reserve (a RAMSAR Listed Wetland), an important water bird feeding & breeding area which is also a stopover for migratory waders. There is a good bird hide here & we spent some time spotting Magpie Geese, Whistling Ducks, Jabirus, Jacanas, a Rufous Night Heron plus many other great water birds.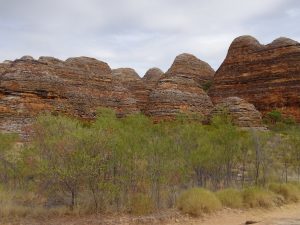 After visiting Telegraph Hill, with the ruins of the old telegraph station, we ventured on to El Questro Wilderness Park where we spent the next 4 nights.
Walking here included Emma Gorge, El Questro Gorge, Zebedee Springs (hot spring bathing), Amalia Gorge & Champagne Springs.
We also did a cruise on the Chamberlain River to see rock wallabies, crocodiles and seven spotted archerfish. The archerfish were a real attraction, squirting water high into the air as we fed them.
Whip Snake Gorge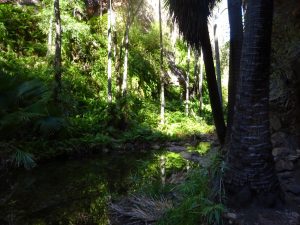 Champagne Springs
While the wilderness areas of El Questro were really beautiful with stunning red sandstone cliffs, wonderful creeks & waterholes as well as lots of really great varied vegetation, it was very, very busy & the focus on tourists (while being one myself) was a bit too much for me. The overflowing septic system was very ordinary! On the positive side, there was  a bar where we hung out each evening.
While here we had a problem with the bus when a rock became wedged between the rear dual wheels causing some tyre damage. This meant we had to stay an extra night waiting for repairs but it did not really interfere with our itinerary.
Manning Gorge was our next stop for 2 nights, another stunningly beautiful area, with a magnificent Boab tree right next to our camp site. To access the walk to Manning Falls we had to swim across the Manning River (a great swimming spot & close to our camping area). The walk was one of our longer ones, undulating & rather hot, but well worth the effort.
Back to the Gibb River Road onto Windjana Gorge via Bell Creek Gorge where we swam & clambered over rocks to swim under the waterfall, another fantastic site & great experience.
We had a bit of a hiccup after leaving Bell Creek when the trailer decided it wanted to fall off the back of the bus but, with a little help from locals, we managed to make it into camp at Windjana after night fall.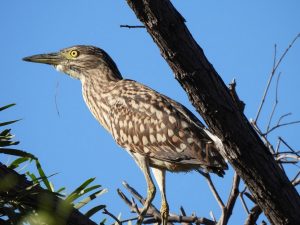 Rufous Night Heron
The next morning we explored Windjana Gorge, walking alongside Lennard River which had many freshwater crocodiles sunbathing on the banks, before venturing off to Tunnel Creek.
Tunnel Creek, a significant historical site for the local Bunaba people, is a 750 m cave system which required both swimming & walking in the dark to get to the end & back again. This was a bit of a challenge, with freshwater crocodiles lurking, but presented another interesting experience.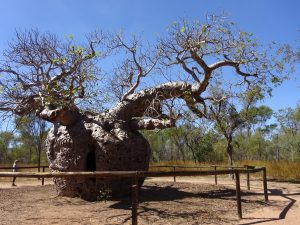 On the final day we headed off to Derby. Here we had a visit to the wharf located on King Sound, an art gallery with lots of local Aboriginal art & the famous Prison tree before arriving at Broome midafternoon.
Prison Tree
Turkey Bush (Calytrix)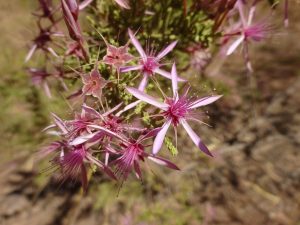 On reflection, this trip was a fantastic experience, exploring a wilderness that is so different from anywhere else in the world. While travelling along the Gibb River Road, with all its challenges, the landscape is one of endless savannah with little disturbance. Dotted through this landscape are the numerous remote gorges filled with stunning waterways, waterfalls & rock formations. For me, an added bonus was the unique vegetation & birdlife as well as the companionship of fellow Ramblers.