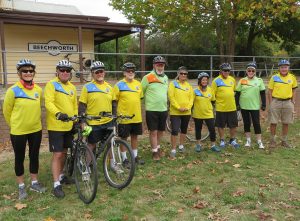 The club is calling for expressions of interest to determine the feasibility of placing a further order for people wanting new or additional shirts.   A 20 shirt minimum re-order is needed.
 EOI required by Friday 5 June. If proceeding, full payment will be required by Friday 19 June. Delivery expected from Friday 14 August.
Available in green or yellow (see photo) – Short sleeve: $17, Long sleeve: $20.
An order form detailing size specs and payment details will be emailed to all expressing interest. Contact: johngroom1@gmail.com: 0419 144 987.
(Photo – Robert O'Neile: Cyclists sporting their new Ramblers Club T-Shirts, Victorian Rail Trails – April 2015)